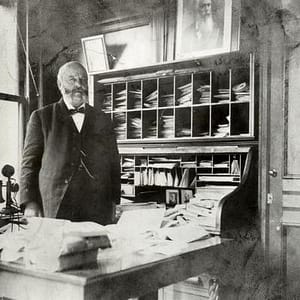 From 1873 to his death in 1915, Anthony Comstock was one of the most powerful cultural arbiters in the United States. As Special Agent for the United States Postal Services and Secretary of the New York Society for the Suppression of Vice, Comstock was charged with enforcing anti-obscenity and anti-indency laws for which he lobbied in Washington, Albany, and a number of state capitols around the nation.
His arbitrary standards of decency and often heavy-handed enforcement methods against pornographers, art salons, theaters, and booksellers played a direct role in the development of a First Amendment defense bar (leading eventually to the founding of the American Civil Liberties Union) and a greater appreciation of the protections of the Fourth Amendment.
Art historian Dr. Amy Werbel is currently at work on her newest book, Lust on Trial: American Art, Law, and Culture during the Reign of Anthony Comstock," which is scheduled for publication by Columbia University Press in 2017.
During the course of her research and work, Dr. Werbel has been tweeting about issues of decency, obscenity, and censorship in her Twitter feed, @LustOnTrial. I highly recommend it to anyone concerned with any of those issues.