A page-turning narrative of privacy and the evolution of communication, from broken sealing wax to high-tech wiretapping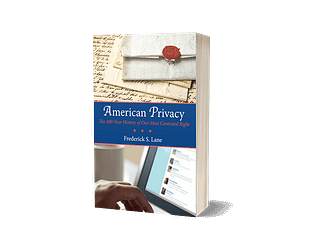 A sweeping story of the right to privacy as it sped along colonial postal routes, telegraph wires, and today's fiber-optic cables on a collision course with presidents and programmers, librarians and letter-writers.
American Privacy traces the lineage of cultural norms and legal mandates that have swirled around the Fourth Amendment since its adoption. In 1873, the introduction of postcards split American opinion of public propriety. Over a century later, Twitter takes its place on the spectrum of human connection. Between these two nodes, Anthony Comstock waged a moral crusade against obscene literature, George Orwell penned 1984, Joseph McCarthy hunted Communists and "perverts," President Richard Nixon surveilled himself right out of office, and the Supreme Court of the United States issued its most influential legal opinions concerning the right to privacy to date. Captured here, these historic snapshots add up to a lively narration of privacy's champions and challengers.
Legally, technologically, and historically grounded, American Privacy concludes with a call for Congress to recognize how innovation and infringement go hand-in-hand, and a challenge to citizens to protect privacy before it is lost completely.
Praise for American Privacy

"Frederick Lane offers a thoughtful and insightful biography of the right to privacy in American law from the Puritans to the War on Terror. In an illuminating account of the evolution of the right, Lane shows how various threads of the right have emerged over time in our ever more complex society. This is a fascinating read for any American who wants a deeper understanding of one of the most important and contentious issues of our age."
— Geoffrey R. Stone, author of Perilous Times: Free Speech in Wartime: From the Sedition Act of 1798 to the War on Terrorism

"American Privacy is a deeply-informed discussion of the history and present state of a fundamental American value. Frederick Lane's detailed account of the attacks against our basic right to privacy is chilling."
— Craig Newmark, founder, craigslist

"Is there anything more fundamental to human freedom than the right to privacy, to be able to live your life as you wish without the scrutiny or the interference of bullying authority? Frederick Lane's book confronts us with this largely invisible threat, magnified by modern technology, and challenges us to defend our most basic rights."
— Howard Zinn, Historian, Author, and Playwright (HowardZinn.org)

"Written with grace and probing insight, Frederick Lane's book is a tour de force guide that illuminates our country's intense relationship with the concept of privacy. Covering the colonial period to today's digitally driven online society, American Privacy explains how much Americans-and citizens around the world-have at stake if we allow governments and market forces to erode our privacy rights."
— Jeffrey Chester, author of Digital Destiny: New Media and the Future of Democracy

"Frederick Lane's American Privacy is a highly readable history of the right to privacy in America. It brings to life the people, debates, and events that have shaped our current protections of privacy."
— Daniel J. Solove, author of Understanding Privacy

"Frederick Lane's timely and lucid history lays bare how attacks on privacy by government and industry threaten democracy itself. Essential reading."
— Christopher Finan, author of From the Palmer Raids to the Patriot Act: A History of the Fight for Free Speech in America