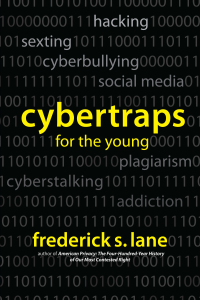 Approaching the risks for children on the Internet in a thought-provoking and intellectual manner, this study skillfully integrates contemporary news reports and disturbing legal cases to show how Facebook and other ready-made forums for information exchange are breaking down boundaries of privacy and facilitating a growing number of criminal convictions for cyberbullying, child pornography, hacking, and copyright infringement. Also included is a discussion of how the widespread use of camera phones, mobile tablets, and social media sites has given rise to a new and dangerous practice among teens: sexting. This reference provides parents with an authoritative lesson in cyberethics and practical instructions for instituting household internet policies, as well as school officials and communities with lessons on how to educate children about the responsible use of emerging mobile technologies.
Cybertraps for the Young is available on Amazon.com in the following formats: Hardcover, Paperback, and Kindle.
Cybertraps for the Young is also available directly from the publisher, NTI Upstream — Click here.
---
NSBA Presentation — "There's No Such Thing as Safe 'Sext'
On April 9, 2011, I presented a portion of Cybertraps for the Young to school board members and school district administrators at the National School Boards Association annual conference in San Francisco, CA. A copy of the presentation is available on Slideshare.net, along with copies of other related presentations.
---
Early Praise for Cybertraps for the Young
Carol Bua Ode, Esq., Former Member and Chair of both the Burlington School Board and the Vermont State Board of Education:
"Frederick Lane spent a decade serving our city and its schools and advocating for children as a member of the Burlington School Board. His new book, Cybertraps for the Young, is an eye-opening look at how children across the nation are using new and rapidly-evolving technologies in unforeseen ways. This marvelous book should be required reading for any student, parent, teacher, school board member or administrator struggling to combat the growing problems of cyberbullying, plagiarism/cheating, and sexting."
Dr. Troy R. Hutchings, Faculty, Educational Leadership, Northern Arizona University:
"Harassment, cyberbullying, sexting, child pornography, identity theft, obscenity, sexploitation, sextortion, illegal purchases, loss of privacy… and that is just the beginning. This compelling and insightful text draws attention to perhaps one of the most pressing issues within the contemporary American family – the contextualization of adolescent relationships within an increasingly technological and sexualized society. In the post-internet millennium, adult themes are continuously projected onto youth, resulting in a skewed reality that presupposes their emotional readiness for a complete immersion into the world of digital and social media. For parents, educators, and students, Cybertraps for the Young may very well be the best tool available to guide behavior and minimize risks in the on-line world.
As a researcher who examines teacher ethics and misconduct, an educator of future teachers, and a parent of teenage daughters, I have found this book to be an imperative. It has profoundly impacted my understanding of digital technology, and its interaction with the most vulnerable segment of American population – our children. With the detailed eye of an attorney and computer forensics expert, and the caring concern of a father, Frederick Lane carefully crafts an authentic examination of the powerful force shaping the emotional and social development of adolescents – computer and mobile technology. Lane thoroughly explains virtually every facet of current digital technology, the consequences of misuse, the scope of the problem, and sound prevention strategies to prevent the assent down a cyber slippery slope."
Mike Brunker, Projects Editor, MSNBC.com:
"Fred Lane has a gift: The ability to explain complex matters so non-lawyers can comprehend the important nuances. Cyber Traps for the Young should be standard issue for parents of all ages."
Michael Touchette, Digital Forensics Analyst, Vermont Internet Crimes Against Children Task Force:
"Parenting and educating have never been simple responsibilities. Today, parents and educators are challenged further by the rapid advancements in technology. Evolutions in technology have reshaped the landscape of parenting and educating in the 21st century. The risks and rewards of these technologies are demonstrated daily in the media. It is all too often that children are at the center of these stories; the lack of immediate accountability or responsibility has influenced what children will say or do. Parents, despite their technological prowess, must take affirmative steps to adequately provide children with support and monitoring necessary to support healthy, responsible use of these technologies. CyberTraps for the Young is the perfect resource for providing parents and educators with an overview of cyber risks, coupled with mitigation strategies while presenting opportunities to connect and communicate with children."
Dr. Sharon Lamb, Chair & Distinguished Professor of Mental Health, Department of Counseling & School Psychology, University of Massachusetts – Boston:
"Fred Lane's knowledge of technology and its history gives Cybertraps for the Young's warning cries weight and substance. Lane has kept apace with youths' interest in the next new thing and is clearly attuned to how our imagined sense of privacy is an illusion and even more so for our children. His scary stories of suicides, legal cases, and worst case scenarios can't be easily dismissed. Lane's brand of writing is one part good old fashioned parent, one part admiring techy, and one part lawyer. While his advice is provocative and controversial, it is worthy of consideration and will induce great discussions among parents and parents and kids."
Haik Bedrosian, Burlington School Commissioner and parent:
"Cybertraps for the Young is a methodical exploration into the many forms of trouble a child's use of the internet can bring, and an empowering guide for parents seeking to apply time-tested values to an ever-changing set of modern problems."