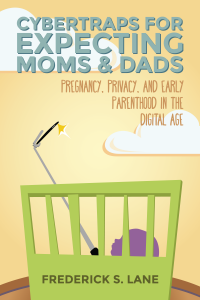 Initial Reader Reaction:
Cybertraps for Expecting Moms & Dads offers a comprehensive look at how technology influences and dictates the most important functions of our lives. Lane delves into the pros and cons of using devices, apps, and social media for life's milestones — dating, mating, conception, pregnancy, childbirth and raising a child. It's a must-read for anyone thinking about starting a family and as important as any pregnancy bible out there; think What to Expect When You're Expecting for the digital and Internet savvy. — Tami Mnoian, mother to a 2-year-old and former Editorial Manager at Penguin Random House.
Media Coverage
August 26, 2016 — Digital Parent Podcast by Sed Lewis
Overview
Cybertraps for Expecting Moms & Dads is designed to educate expecting parents about the potential risks that can arise from the use of technology during pregnancy (and before).
Much like pregnancy, Cybertraps for Expecting Moms & Dads is divided into three parts:
The Cybertraps of Conception,
The Cybertraps of Pregnancy, and
The Cybertraps of Birthing and Infancy.
Within the three sections, each chapter contains a lively discussion of the potential risks that technology can create, all illustrated with examples from recent news reports and academic research.
Lane brings to this project his experience raising four boys, a decade on the Burlington, Vermont School Board, and more than two decades researching and writing about emerging technologies. He offers practical suggestions for minimizing the risks he discusses, and includes a series of questions designed to help expecting moms & dads create their personalized digital pregnancy plan.
If you are interested in this new title and would like to be notified when it is published, please add yourself to my mailing list by filling out and submitting the newsletter form in the right-hand column. As always, please feel free to contact me directly if you have any questions, suggestions, or possibly relevant information.
Table of Contents
Section I: The Cybertraps of Conception
Chapter One: Mobile Technology and Human Fertility: A Heated Debate
Chapter Two: Death from Digital Distraction
Chapter Three: Love Me Tinder, Love Me True: The Impact of Geo-Social Dating Apps
Chapter Four: "A Digital Bathhouse for Millennials"
Chapter Five: Has Technology Ruined Sex?
Section II: The Cybertraps of Pregnancy
Chapter Six: Conception and Personal Privacy
Chapter Seven: Social Media Risks at the Start of Pregnancy
Chapter Eight: Technology and Health Risks to the Fetus
Chapter Nine: Your Little Bundle of Data
Section III: The Cybertraps of Birthing
Chapter Ten: Social Media Cybertraps During Pregnancy
Chapter Eleven: The Cybertraps of Labor, Birth, and Birth Announcements
Chapter Twelve: Naming Your Child in the Digital Era
Chapter Thirteen: Whose Identity Is It Anyway?
Chapter Fourteen: "Smart Technology" for New Parents
Chapter Fifteen: Parenting in the Era of Digital Devices
Chapter Sixteen: Delaying Your Child's First Use of Technology
Conclusion
Appendix A: Drafting a Digital Plan for Pregnancy and Infancy
Acknowledgments
Change Log
Disclaimer
Feedback Appreciated