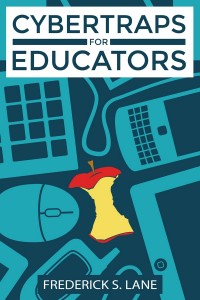 My latest book, Cybertraps for Educators, discusses a wide range of potential legal traps for teachers stemming from the use and misuse of electronic technology and social media, including: cyberloafing, viewing inappropriate content in schools, mishandling investigations of student misconduct, cyberbaiting, identity theft and fake social media profiles, voyeurism, child pornography, sexting, and sexual assault. The book concludes with both practical tips and policy suggestions for minimizing the risk of cybertraps for educators.
Cybertraps for Educators is currently available on Amazon.com in the following formats: Kindle and Paperback.
It is also available from Barnes & Noble on the Nook platform.
Table of Contents
Section I: Cybertraps in the Workplace
Chapter One: Cyberloafing
Chapter Two: Hostile Work Environments
Chapter Three: Illegal Online Activity
Chapter Four: The Hidden Cybertrap: Mishandling of Student Sexts
Chapter Five: Receipt and Possession of Child Pornography
Section II: Cybertraps Outside of the Workplace
Chapter Six: Are Educators Entitled to a Personal Life?
Chapter Seven: The Risks of Posting Personal Opinions and Frustrations
Chapter Eight: The Rickety Soap Box: Political Opinions and Social Commentary
Chapter Nine: Posting Inappropriate Photos and Videos
Chapter Ten: Risqué Second Jobs
Chapter Eleven: Posting Sexually Explicit Photos and Videos
Chapter Twelve: Work in the Adult Entertainment Industry
Chapter Thirteen: Prostitution
Section III: Cybertraps Involving Students
Chapter Fourteen: Cyberbullying and Cyberbaiting
Chapter Fifteen: The Perils of Fake Social Media Accounts
Chapter Sixteen: Cyberharassment and Cyberstalking
Chapter Seventeen: Digital Voyeurism and the Production of Child Pornography
Chapter Eighteen: Solicitation, Sexting, and Sexual Assault
Section IV: Teacher Precautions and Solutions
Chapter Nineteen: "THINK!"
Chapter Twenty: Choose Your Friends Carefully
Chapter Twenty-One: Students Are Not Your Friends
Chapter Twenty-Two: Be a Role Model for Good Online Behavior
Chapter Twenty-Three: Be an Advocate for Good District Policies, Procedures, and Practices
Conclusion
Acknowledgments
Endnotes
Change Log
Disclaimer
Feedback Appreciated
About the Author
"Educators are not only expected to be experts in content, curriculum, and pedagogy, they are also tasked with meeting the holistic needs of a highly vulnerable population. As a result, the emotional and intellectual interplay that occurs daily between students and educators is laden with professional risks. By utilizing authentic headline-grabbing cases, coupled with expertise leveraged from his vast experience as both an attorney and a computer forensics expert, Frederick Lane communicates an unescapable narrative … the cyber landscape for educators is treacherous, and inattentiveness is indefensible. Provocative … compelling … razor sharp … with solutions that work. This book is a must read." — Dr. Troy R. Hutchings, Research Chair for the College of Education and School of Advanced Studies at the University of Phoenix.
"This book provides the topographic map which teachers need to steer clear of major hazards in the rapidly changing digital landscape. Mr. Lane's sought after expertise remains both illuminating and accessible." — Dr. Glenn S. Lipson, a forensic psychologist and program director of the California School of Forensic Science at Alliant International University.